I recommend the Premium Starter Kit to Get a Jump Start
When you order your own premium starter kit, you are entitled to wholesale pricing on all Young Living products, this is a 24% discount. The Premium Starter Kit is the best value! This kit retails for over $300, but as a Wholesale Member, you will get a 50% discount.  It will change your life, it really will.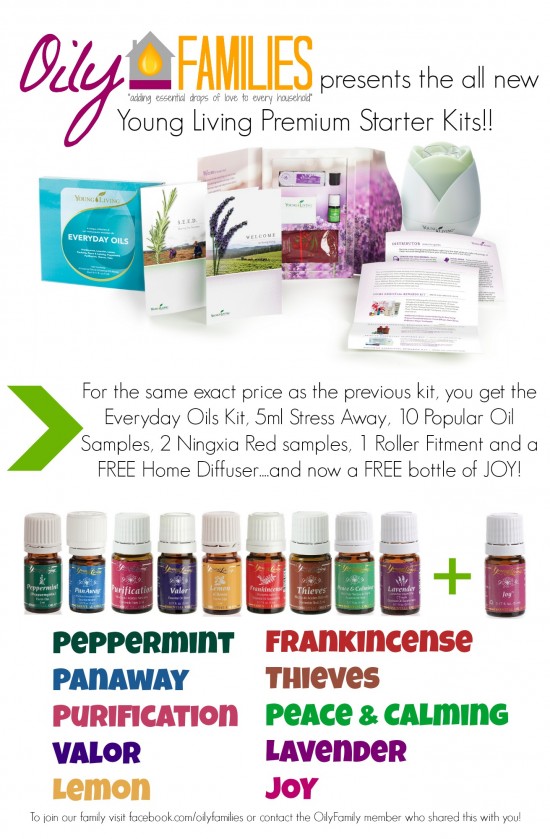 It includes 5 mL bottles of the following essential oils:
Lavender (for skin irritations, buns and relaxation),
Peppermint (for muscle soreness, fever and digestive issues),
Lemon (for detoxification, uplifting mood and cleaning),
Frankincense (for youthful skin, immune booster and spiritual connection),
PanAway (for pain and inflammation),
Peace & Calming (for relaxation and good sleep),
Thieves (for immunity and colds/flus),
Purification (for mold/fungus/infections),
Valor (for spinal issues and snoring)
Joy (for happiness and love)
A home diffuser (a $96 value. I use mine every single day and bought 2 more.)
5 mL bottle of Stress Away
Aroma Glide roller fitment (to turn any oil into a roll on)
10 sample packets total of Lavender, Peppermint, Peace & Calming, Lemon, and Thieves for travel or sharing with family and friends
Plus, if you purchase a kit through my link I'll send you a FREE book!
(Young Living ships throughout the world. I do not.  Sorry, this special offer is for US purchases only.) I love this book!  It is 400+ pages of fantastic essential oils knowledge.  Plus…
Support You Need to Learn About Essential Oils:
I am committed to helping everyone who signs up under me learn about essential oils.  Join my learning community to get to know all the ins and outs about essential oils and how to use them properly. Still not sure about Young Living Oils?  Check out my Young Living Resource page here for popular posts and other great learning resources.
2 NingXia Red 2-oz. samples (a yummy antioxidant supplement)